VRSF RACE INTERCOOLER FMIC - (09-16) F10 535i | F1X 640i
/
-2 in stock
NOT FOR SALE IN CA.


VRSF HD Stepped Race Intercooler Kit
2009 – 2016 BMW 535i, 535xi, 640i, 640xi, 740i, 740xi
Replace your inefficient factory intercooler with the VRSF upgraded intercooler kit to get the most out of your BMW. This kit has been engineered to be one of the best performing, direct bolt on intercoolers available for your BMW with special attention to quality and performance while maintaining a reasonable price. VRSF perfectly balanced intercoolers allow for higher HP gains, mainly due to their ability to keep intake temps down while preventing heat soak which is a common problem with the factory intercooler. This results in a more power and increased reliability with reduced chances of pre-detonation & knock.
Intercooler Core
The most important component of any intercooler is the core. The core cools the charged air from the turbo before it enters the engine and the OEM BMW tube and fin intercooler is designed to support low boost levels and air flow. Once boost levels and air flow are increased, the OEM unit is easily overwhelmed and can not keep up with the cooling demands of a tune running more than OEM boost levels. This results in heatsoak which will result in a power loss and a higher potential for pre-detonation in the upper RPM range.
The VRSF Race HD FMIC resolves this problem with our application specific bar and plate core design which utilizes a staggered and offset, high density fin pack. Our core has been carefully tuned to provide the the best intake temperature reduction while maintaining minimal pressure drop. Our HD bar and plate intercoolers are also much more durable and have the ability to withstand rocks and other debris much better in comparison to tube and fin style intercoolers.
The OEM intercooler easily heat soaks and temperature rises from 80 – 90 degrees during a 2 through 5 gear pull aren't uncommon. High intake temps are both harmful for your engine and performance. As displayed in the logs below, the VRSF offers a significant improvement in terms of intake temperature control and actually manages to keep temperatures closer to ambient through out multiple gear pulls. In the example below we show a F10 535i on a 54 degree day. The VRSF Race HD intercooler maintains a safe temperature through the entire 2nd through 5th gear pull while only rising 2 degrees whereas the OEM intercooler rose 76 degrees at the same boost levels (20 psi).
Finish & Construction
Our VRSF intercooler features 3D CAD designed cast aluminum end tanks for improved flow in comparison to sheet metal end tanks. Our CNC'd, one piece seamless cast end tanks are also more durable than comparable sheet metal or multiple piece end tanks. Every VRSF intercooler is finished in a uniform, bright silver coating which helps protect the intercooler from corrosion and ensures your VRSF intercooler holds up to the elements, no matter where you live.
Every VRSF product includes our lifetime warranty & our "No Hassle" satisfaction guarantee which includes fitment & defects.
Installation
This is a complete plug and play bolt in option and we include everything required to replace the OEM intercooler. All VRSF intercoolers feature tabs that allow the retention of the factory fan shroud. Our end tanks utilize the OEM intercooler piping and will work with any aftermarket intercooler piping that fits the OEM intercooler. Each VRSF intercooler is hand finished and pressure tested to ensure a high quality, leak free experience. This intercooler will fit both Left Hand Drive (LHD) & Right Hand Drive (RHD) Models as well as all XI models.
Features
Ultra High Desnity Bar & Plate Core
CFD Optomized Cast Aluminum Plug and Play End Tanks
102% larger than the OEM intercooler.
Plug and play with no cutting required.
Includes lifetime warranty
Fits the following BMWs
2009 – 2016 F07/F10/F11 BMW 535i & 535xi (RHD & LHD)
2009 – 2016 F07/F10/F11 BMW 535i & 535xi Gran Turismo GT (RHD & LHD)
2010 – 2016 F06/F12/F13 BMW 640i & 640xi (RHD & LHD)
2007 – 2012 F01/F02 BMW 740i (RHD & LHD)
2007 – 2012 F01/F02 BMW 740Li (RHD & LHD)
VRSF Race Intercooler – N55 F10 535i
54° Ambient | 2 – 5 Gear Pull | Start 89° – End 86°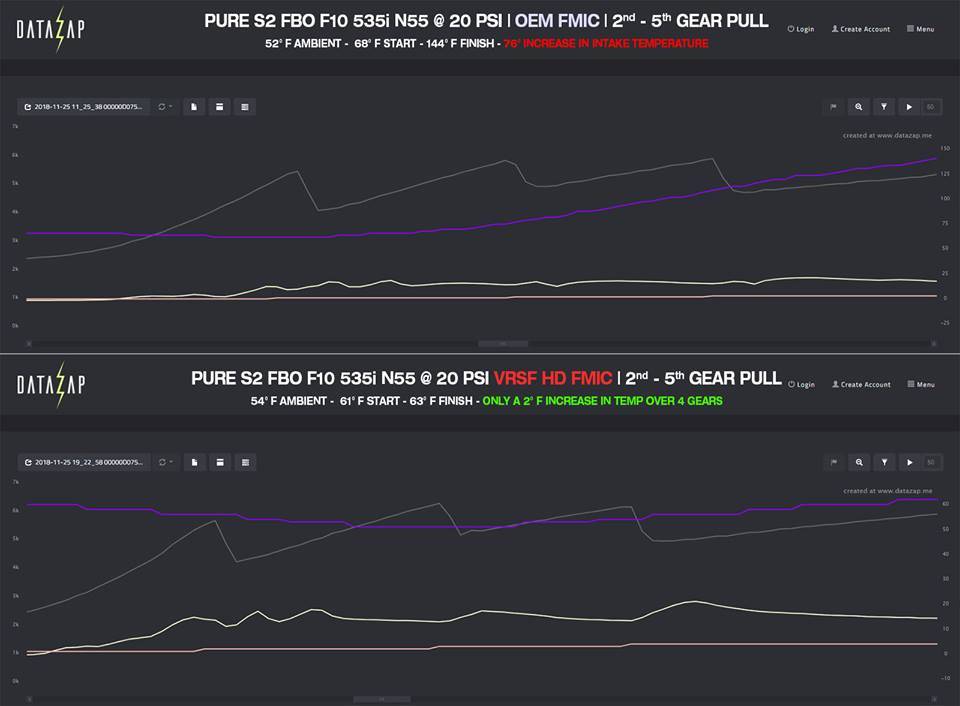 Please contact us via the contact page form to start a return or exchange. The return/exchange process must be started within 2 weeks of delivery, after 2 weeks we will not be able to issue a refund/exchange. A 20% restocking fee will be applied to any return once the order has been shipped. For any questions regarding returns or exchanges feel free to contact us at sales@horizonmotorsport.com or reach out to us via the contact form and we would be happy to help.
You can find additional details on our return and exchange policy here.